The King's Barn 1900's Restored Hay Barn – Home Page
Welcome to
"The King's Barn"
THE KING'S BARN
1900's Restored Hay Barn
Providing UNIQUE LODGING
for Large and Small Groups
since 1986…
Your Hosts:
The Nelson Family
Jack, Gerry, John, Stefanie and Alexx
Experience "The Endless Mountains Region" THE KING'S BARN is a perfect place for
large groups located on 84 acres.
RATE: $40.00 Per Person / Per Night (Minimum Rates Apply Based On Unit)
Our LODGE:

10 to 16 guests — 5 to 9 bedrooms with 4 bathrooms
18 to 34 guests — 9 to 12 bedrooms with 6 bathrooms

Our MINI-LODGE:

8 to 10 guests — 3 bedrooms with 2 bathrooms
The ANNEX is just perfect for smaller groups: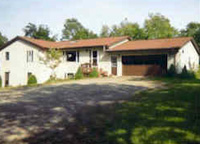 Our ANNEX located on 5 acres accommodates 2 to 12 guests — two condominium apartments at our family residence (one mile from the Barn). Each apartment unit has a separate private entrance and private parking area.
At MEADOWBROOK RANCH we raise CHAROLAIS BEEF CATTLE located on 57 acres of property. This is the Nelson Residence located just 2 miles from The King's Barn.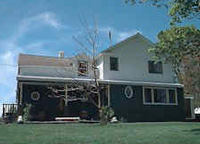 All locations provide a tranquil setting nestled in the ENDLESS MOUNTAINS of Northeastern Pennsylvania.
Spring, summer and fall, you can take wonderful nature walks through acres of private woodlands, fish and swim in our private pond (one located on each property). For the golfers, there are two (2) golf courses located nearby. In the winter, you can enjoy downhill skiing at ELK MOUNTAIN (we have Elk Mt. DISCOUNT ski lift tickets for adults at a savings of $7.00 per day) and cross country skiing at CALLENDER'S MAPLE SUGAR HOUSE 2 miles away.
**You will be able to do your own cooking in our fully equipped kitchens.
**Bedding is provided — units have washers and dryers.
**If your group doesn't want to do their own cooking, catering can be arranged (additional charge).